The old small 4 inch Crestron Interface has been upgraded to a new 7 inch Crestron Interface that is significantly easier to use.
Rather than having to turn off the unit, there is a screen saver with the time, and date.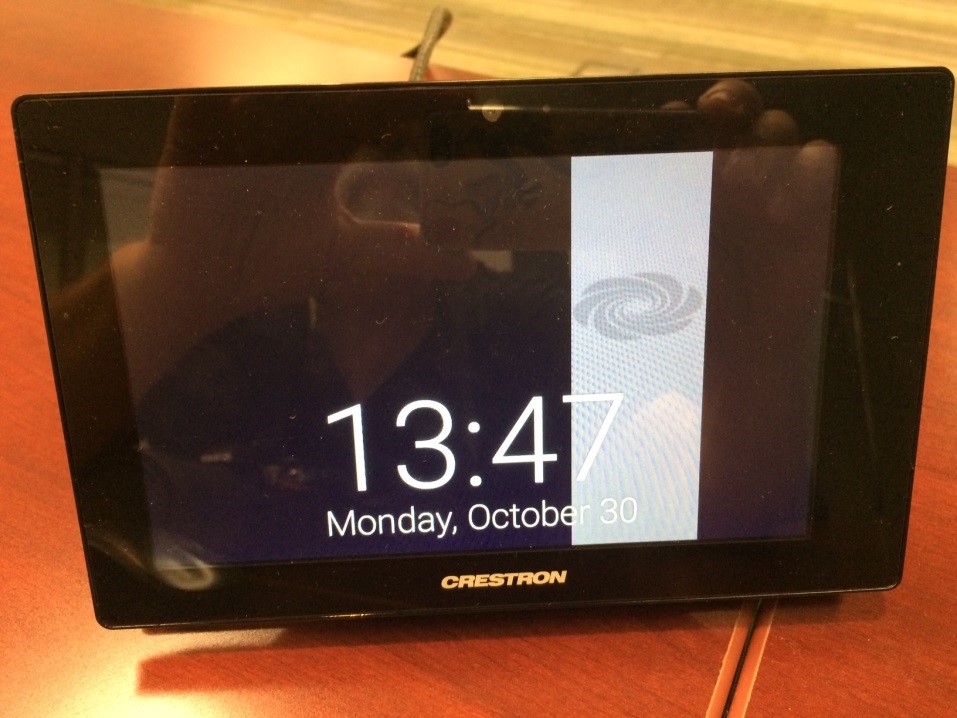 To activate the screen just touch it anywhere.  This will bring up the home screen menu asking you to select one of the three options that are highlighted:
Present
Phone
Audio Controls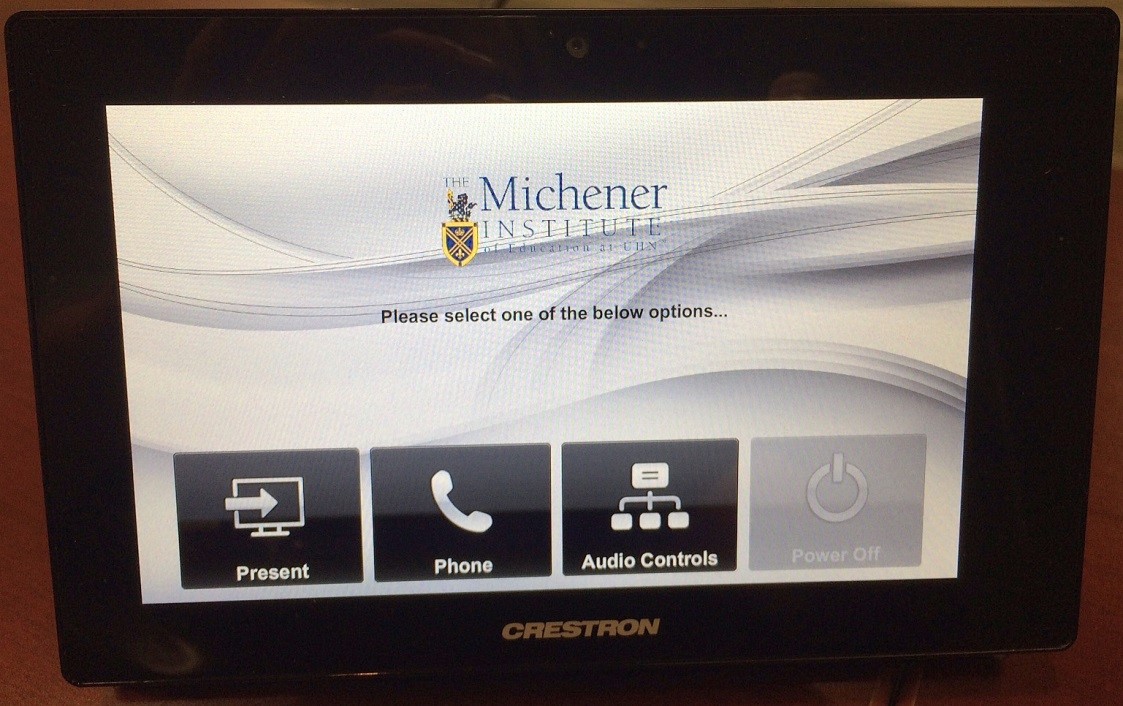 Only the first two options are of any real significance. The "Present" option allows you to choose the device input you want (either main computer or laptop – HDMI or VGA). The "Phone" option brings up the dial pad.
Present
Pressing the 1st option, "Present", this brings up a screen for the projector and input options.
In the Projector Functions, you can control the projector by:
Power On
Power Off
Audio Video Freeze
Audio Video Mute
In Projector Source, there are two options for laptops – HDMI and VGA, as well as the main or 'Resident' computer:
Laptop HDMI Connection
Laptop VGA Connection
Resident Computer
If you plug in a laptop to either the HDMI or VGA option, the system will automatically switch to that laptop source.  If you wish to go back to the main computer, simply press "Resident Computer" and you can force the system to go back and forth between the main computer and laptop.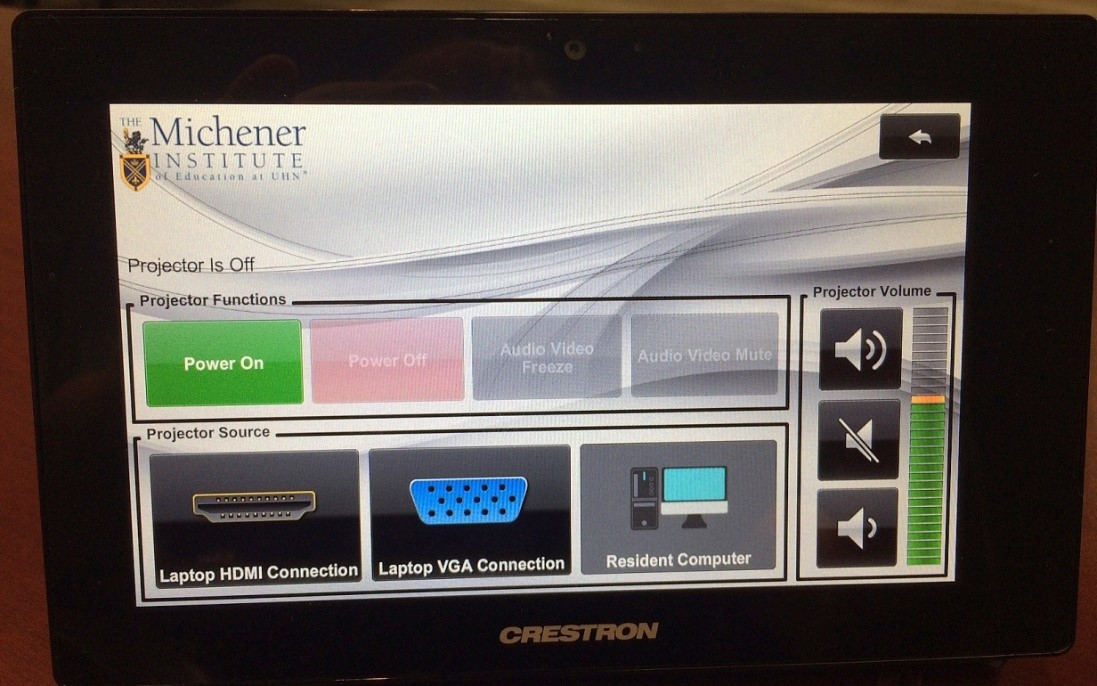 Phone
To move to the phone or teleconference screen page, simply go back to the original screen by tapping the "back" button at the top right.
On the original screen, choose the 2nd button or the "Phone" option and this will bring up the "Phone Dial" option.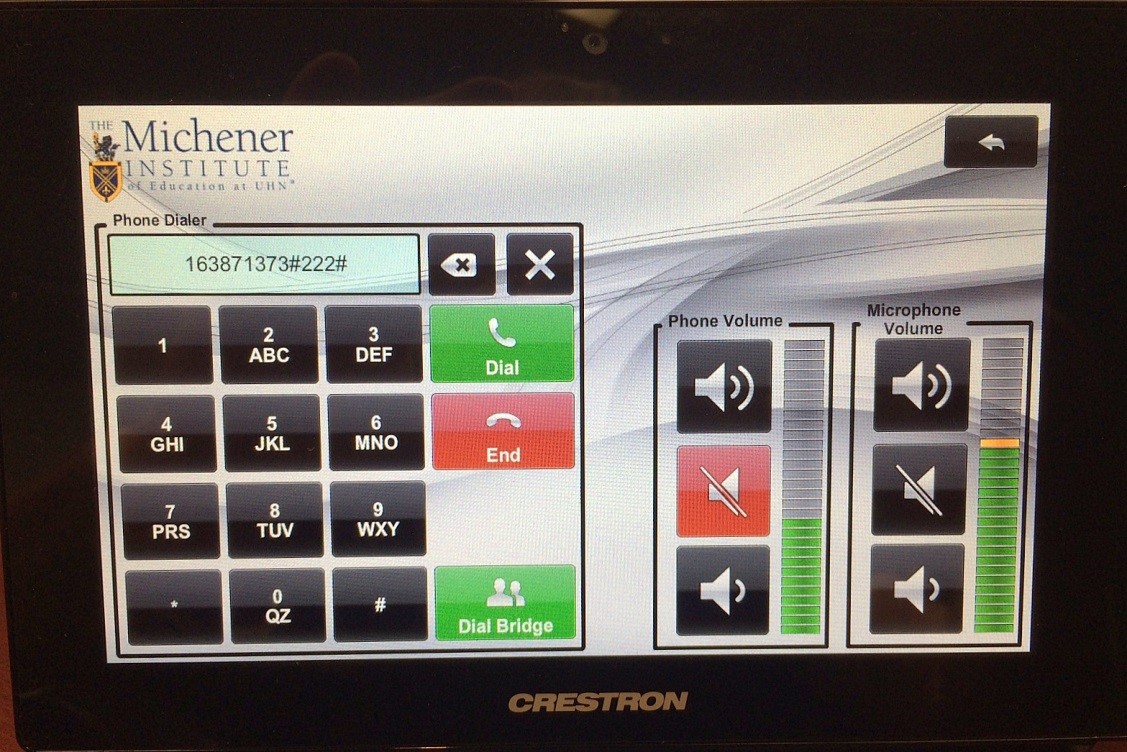 To access ShoreTel conferences, you can reach the teleconferencing extension in two ways, either by dialing the ext. 1113# or by tapping the green "Dial Bridge" button in green at the bottom right of the keypad.  Either option will take you to the ShoreTel teleconferencing extension, where you can then enter the 8-digit passcode option.
To the right of the dial pad are the volume controls – the "Phone Volume" is the incoming volume and the "Microphone Volume" is the outgoing volume.  When the "Mute" is engaged, it turns red to be more obvious.
Audio Controls
To engage the final screen, again you hit the "back" button on the upper right of the "Telephone" screen.   This brings up the "Audio Controls" screen.    
This screen is largely redundant, as all the associated audio controls are duplicated on the individual screens – so the volumes for the phone system are on the screen with the dial pad and volume for the computer is on device screen.
However, they are all represented here in one place.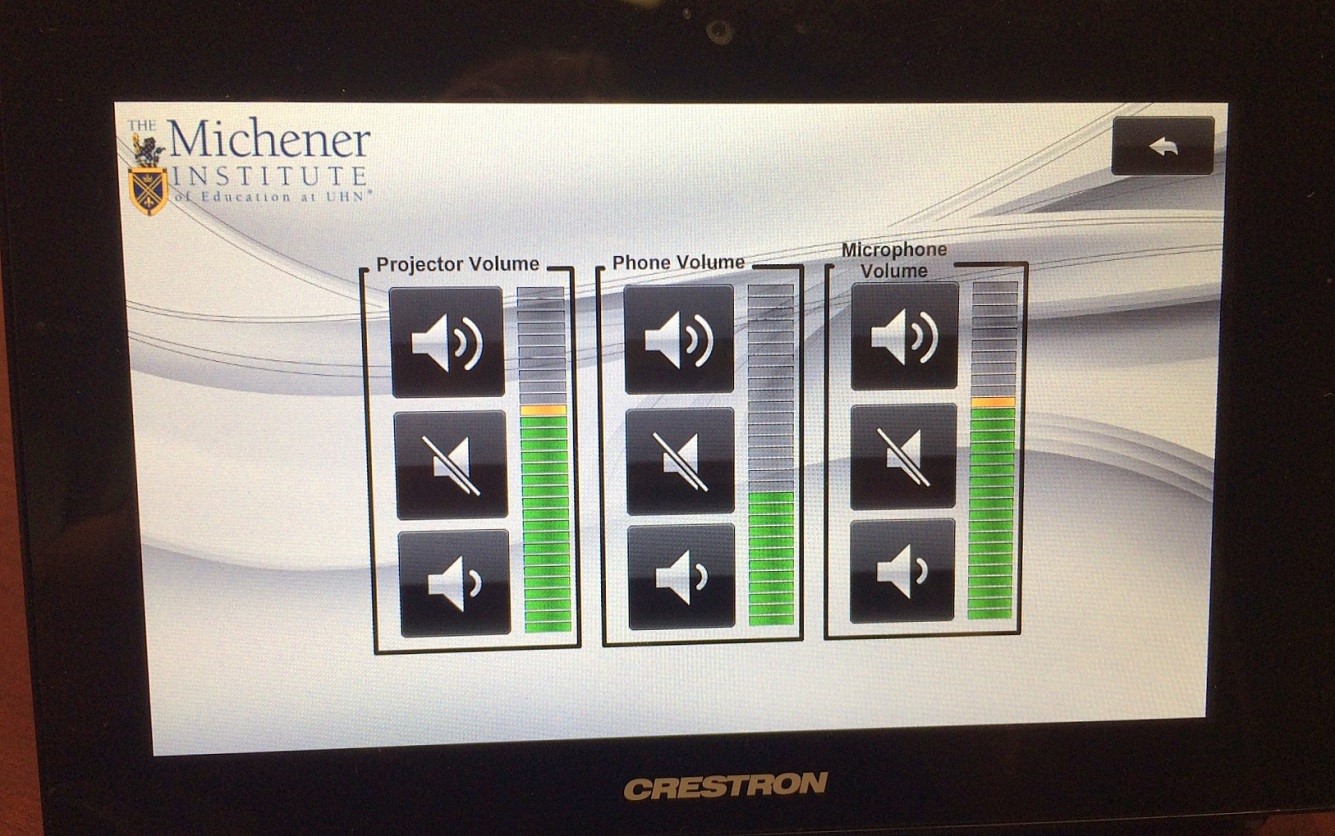 If you have any problems with the new system, please don't hesitate to contact either:
Tim Chipman at 3302
Michener Helpdesk at ext. 3369